Robin and I had a great trip to Sorrento, Italy.  Between my patent meetings, we were able to visit some stunning sites with our good friends from all over the world.  Probably the highlight was a drive to Postiano, along the Amalfi Coast.  There is a small beach and hundreds of restaurants and shops nestled in the steep hill.
From Postiano, we took the ferry to Capri and walked around the island.  The weather was perfect.
All along the drive there were family gardens, lemon and olive groves, and vineyards.  It seems like everyone there has their own garden tucked away on the hill side.  What we call organic gardening, theyve called life for the last thousand years.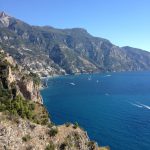 I think I need an apartment here so I can write my next book.