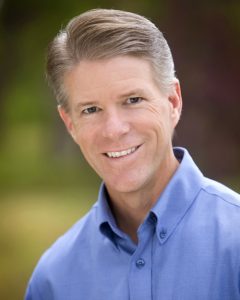 In addition to a thriving career as a novelist, author Darin Gibby is also one of the country's premiere patent attorneys and a partner at the prestigious firm of Kilpatrick Townsend (www.kilpatricktownsend.com). With over twenty years of experience in obtaining patents on hundreds of inventions from the latest  drug delivery systems to life-saving cardiac equipment, he has built IP portfolios for numerous Fortune 500 companies. In addition to securing patents, Gibby helps clients enforce and license their patents around the world, and he has monetized patents on a range of products.
Darin's first book, Why Has America Stopped Inventing?, explored the critical issue of America's broken patent system.  His second book, The Vintage Club, tells the story of a group of the world's wealthiest men who are chasing a legend about a wine that can make you live forever. His third book, Gil, is about a high school coach who discovers that he can pitch with deadly speed and is given an offer to play with the Rockies during a player's strike. Gil soon discovers, however, that his unexpected gift is the result of a rare disease, and continuing to pitch may hasten his own death. Darin's latest book, Chasing Hindy, is thriller about a patent attorney who thinks she has landed her dream job with a startup that purports to have invented a car that can run on water.
With a Bachelor of Science degree in mechanical engineering and a Master of Business Administration degree, he is highly regarded in Denver's legal and business community as a patent strategist, business manager, and community leader. He is also a sought-after speaker on IP issues at businesses, colleges and technology forums, where he demonstrates the value of patents using simple lessons from working on products such as Crocs shoes, Izzo golf straps and Trek bicycles.
An avid traveler and accomplished triathlete, Darin also enjoys back country fly-fishing trips and skiing in the Rocky Mountains. He lives in Denver with his wife, Robin, and their four children.
---
Awards & Honors
Named People's Choice Best IP Lawyer in Law Week Colorado's Barrister's Best, 2021)
Selected as the Denver Patent Law "Lawyer of the Year" (Best Lawyers International, 2014).
Voted "IP Star" by Managing Intellectual Property magazine 2013, 2014, 2015, 2016, 2017, 2018, 2019, 2020, 2021, 2022
Named as Chambers USA America's Leading Lawyers (Band 1), 2011, 2012, 2013, 2014, 2015, 2016, 2017, 2018, 2019, 2020, 2021, 2022
Named as Chambers USA Leading IP Lawyer (Band 1), 2021
Indicated to be "one of the most respected patent prosecutors in the country" (Intellectual Asset Management, 2013)
Super Lawyers, 2012, 2013, 2014, 2015, 2016, 2017, 2018 (100 top lawyers in Colorado) and 2019
Best Lawyers in America, 2013, 2014, 2015, 2016, 2017, 2018, 2019, 2020, 2021, 2022, 2023, 2024
Selected by Legal 500 US in 2016 for Patent Prosecution
Chosen "Best Intellectual Property Lawyer" Barrister's Best, 2012
Recipient of a Life Science Star (LMG Life Sciences 2012, 2013,  2014, 2021 and 2022)
Named to the IAM Patent 1000: The World's Leading Patent
Practitioners (Intellectual Asset Management, 2012, 2013, 2014, 2015, 2017 and 2019)
Selected as a finalist for "Lawyer of the Decade" (Law Week Colorado, 2011)
Recipient of BTI Client Service All-Star Award (BTI Consulting Group, 2011)
Voted "Best Patent Lawyer" (Barrister's, 2010)
Voted Colorado's "Best Patent Attorney" (Law Week Colorado, 2009)
Chosen "Lawyer of the Year" (Law Week Colorado, 2008)
Named "one of Colorado's "Super Lawyers" (5280 Magazine and Colorado Super Lawyers Magazine, 2006)
Chambers USA America's Leading Lawyers for Business (Band 1), 2005
Denver Business Journal's Who's Who in Denver Business, 1999, 2000, 2002 and 2003