Prior to last week, I'd been to Arrowhead Lake in Rocky Mountain National Park twice.  Here is a link to my post several years ago.  The first time I got lost and by the time I got to the lake I had no time to fish.  The second time I brought my two sons.  We made it to the lake in 3.5 hours, but it started to rain and we had to leave.  I didn't fish then either.  While I still have the ability to hike 15 miles with nearly 5,000 feet of elevation gain, I decided I was going to try again.
I left my house at 4:30 and make it to the trail head at Milner Pass by 6:45.  I took on stop to get this photo of an Elk looking down onto Arrowhead Lake from Trail Ridge Road.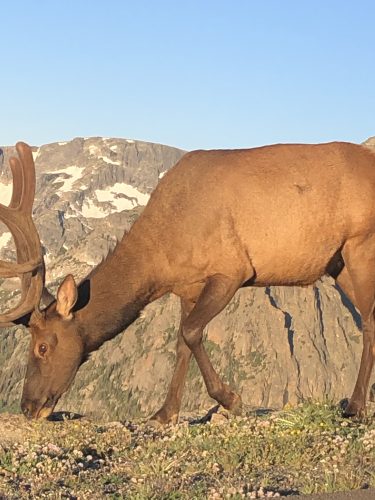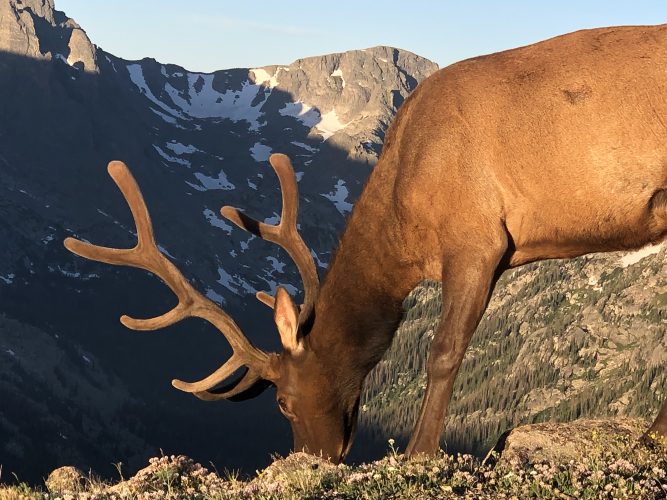 I made it to near the top of Mt. Ida in about two hours.  My elevation was just below 13,000 feet.  From there I took a few photos, then headed down the ridge to Arrowhead.  Unfortunately, there were several cornices so I had to drop down lower in order to get into the lake.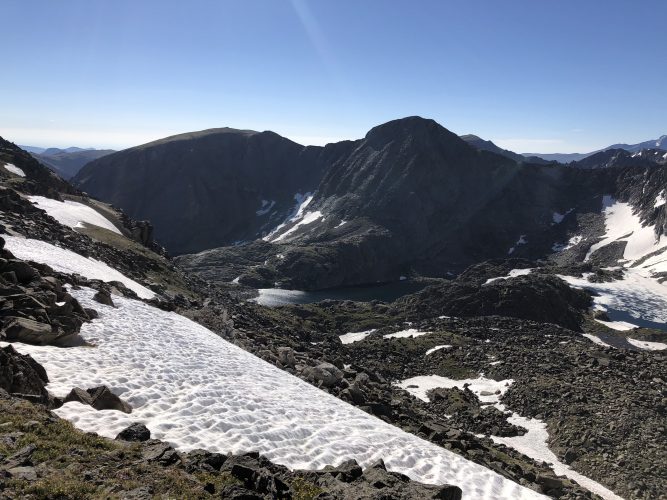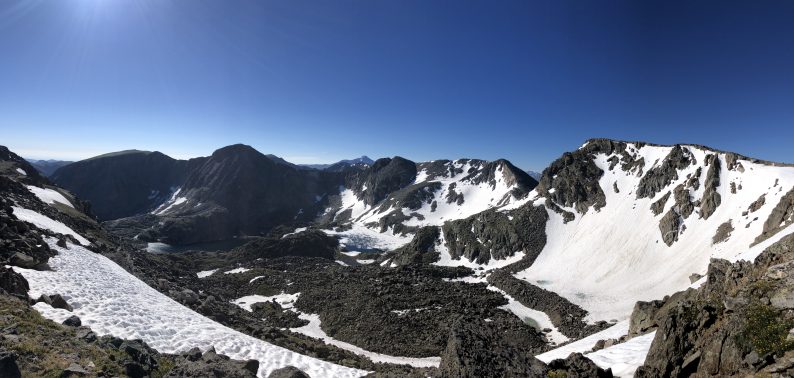 The drop down into the lake kind of takes your breath away.  I'd dropped down 2,400 feet in a little less than an hour.  As you can see, the lake is spectacular when you get just above the lake.  The total time was three hours to the lake.  That's really fast.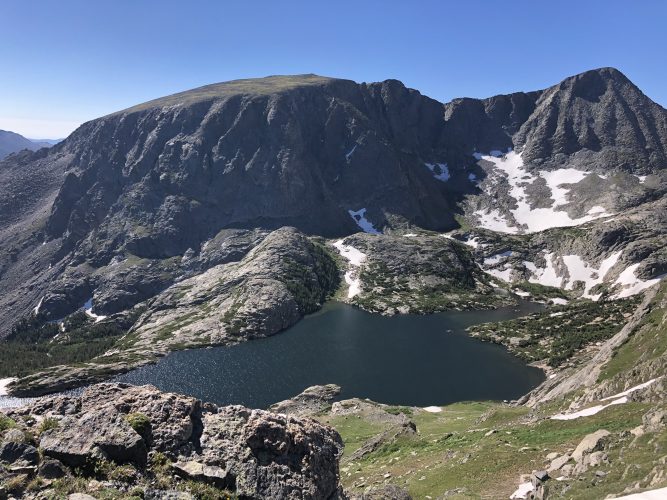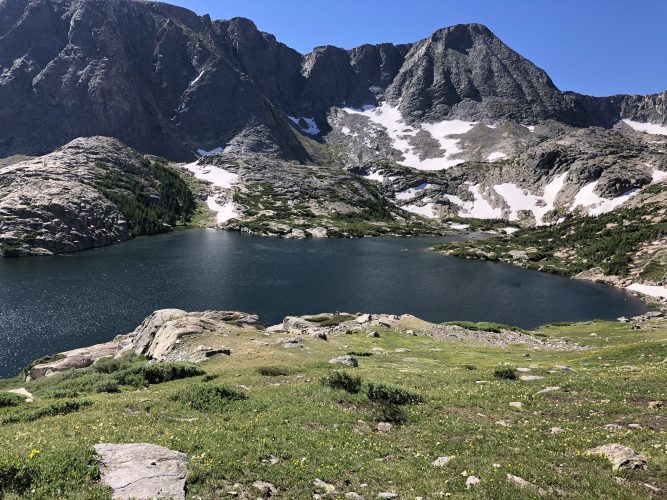 Once I got to the lake, I took some time for lunch and a few photos.  Then I walked around to the other end of the lake to see the waterfalls.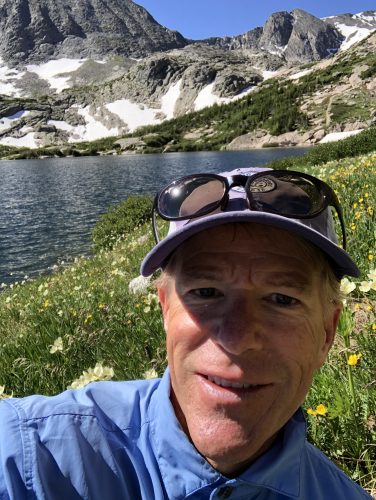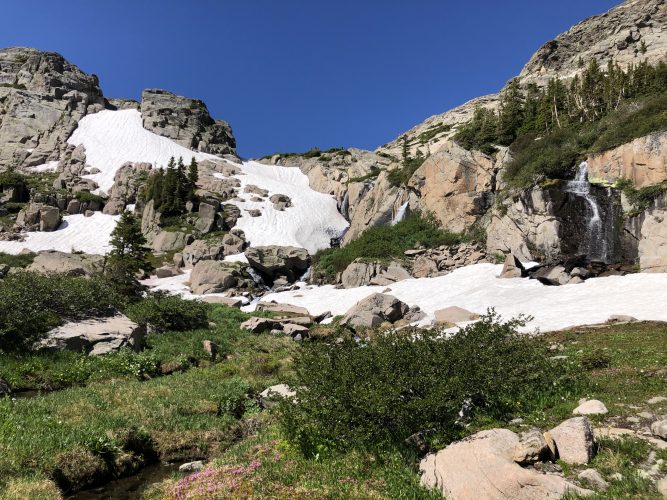 Now, the fishing.  I too had heard the rumors of the massive cutthroats.  I was hoping to prove that true, but it just isn't.  I caught several cutts, but they were more in the 12 to 14 inch range.  And, they are really smart and difficult to catch.  I saw one swimming that pushed 18, but there are plenty of other lakes in RMNP that have bigger fish.  Bottom line, if you're going to Arrowhead for the large fish, think again.  If you want to go on an adventure with some great scenery, that would be a much better reason to go.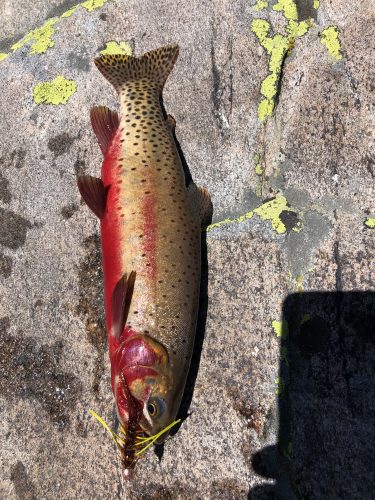 Speaking of scenery, I saw a herd of big horn sheep and lots of elk.  This big one blocked the trail for 20 minutes until he finally decided to move and let me past.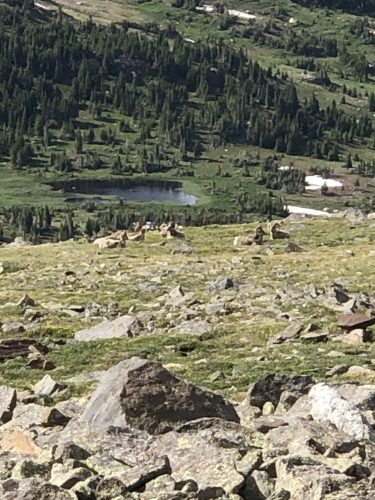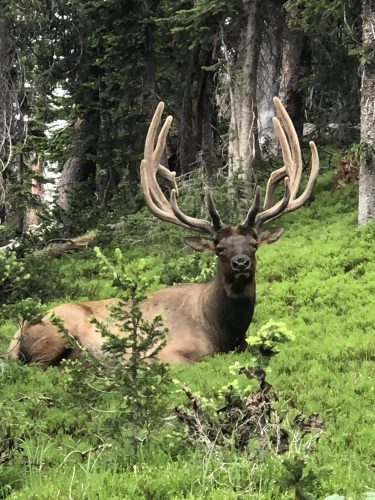 On the way back, I couldn't resist stopping to take a photo from Trail Ridge Road to see just how far I hiked.  It seems impossible when you look at it from afar.  But it is possible.  I've now done it three times.